O.J.: Made in America
Director: Ezra Edelman
Released: May 20, 2016
Oscar nominations:
Best Documentary (won)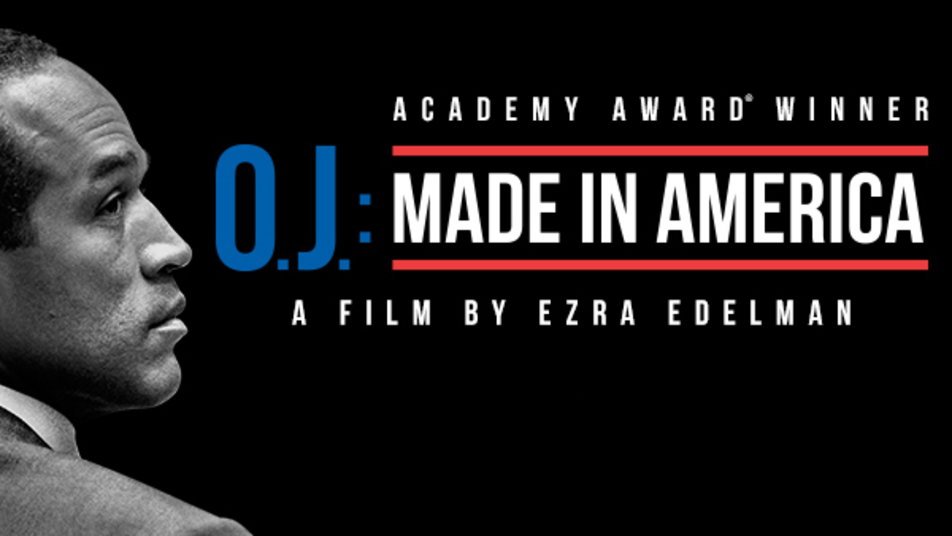 At a running length of seven hours and forty-seven minutes, this is the longest film to ever win an Oscar. I was surprised it was even up for an Oscar since it watches more as a miniseries than as a film. It was first shown as a five part miniseries on ESPN, but it also got a theatrical release which made it eligible for the Oscar. When it was shown at Sundance, there was only one intermission! What kind of bs is that? A nearly eight hour movie and only one intermission? At least there were two intermissions at other places it was shown theatrically. I watched it on Hulu and it took me about a week to get through it.
This movie chronicles the life of O.J. Simpson. Now when I think of O.J. Simpson, the first thing that comes to my mind is the Trial of the Century and that part of his life was a huge chunk of the film, but they also discuss his early life as a football player who became a beloved national symbol and then a superstar athlete and celebrity. I was in middle school when the murders occurred and a high school freshman when the not guilty verdict was read. I'm trying to remember if I even knew who O.J. Simpson was before all this occurred or if this was my first introduction to him because I honestly don't remember. It's possible I had heard of the name because I believe at that point he was a commentator for one of the big networks during football games so I probably heard it when my dad was watching football games and I was doing something else. By this time he would have played Nordberg in the three
Naked Gun
movies, but I honestly don't remember when I saw those and I'm sure I wouldn't have remembered him from them even if I had seen them before the trial. I'm pretty sure I was familiar with the name, but didn't know much about his life until the trial.
I would rank the O.J. Simpson Murder Trial as one of the most significant cultural events that ever happened during my lifetime. If you are old enough to remember this, then you remember what a big deal it was. And if you were too young/weren't born yet, this documentary is a great way to find out about it. In fact, there were many things I had forgotten or didn't even realize while watching it. (And some things I was reminded about earlier when I had watched the FX series
The People vs. OJ Simpson
).
They interview everybody and anybody who was involved in Simpson's life, whether it was his football career, personal life, or his trial. The only person they didn't get to interview was Simpson himself.
The first part of the documentary began with his college and professional football career, the part of his life I was the least familiar with. He played for the Buffalo Bills in the '70s and the documentary reiterates what an icon he became and how everybody loved him. Apparently he did some pretty impressive things during his football career, but I don't know anything about football. Being so well loved by everybody made it easy for him to transition into Hollywood. He was in a handful of films, but I've only seen/heard of
The Towering Inferno
and the
Naked Gun
movies. (And I'm pretty sure he was the one who started the fire in
The Towering Inferno!
(And yes, I made that joke when I
reviewed that film.
)) He was the spokesman for Hertz and I feel like I remember the networks showing these commercials over and over again because I know I've seen them, but they were first aired before my time. They interviewed the director or someone who was involved in the commercials and he said that since a black man was the star of the commercials, they had to make sure everyone else in it was white. This was in the late '70s - a different time for all!
There were lots of things I didn't know about Simpson that I learned in this documentary. I knew he was married before he met Nicole Brown, but I didn't know he had a daughter who drowned right before she turned two. I also didn't know his father was gay. And while I knew Nicole was younger than him, I guess I hadn't realized how large the age gap was, especially when they met. He is twelve years older than her and they met when she was 18, so he was 30 when he was going after an eighteen year old. Ewww. They interview a few of his friends from childhood and high school and they tell stories about how charming he was and how he could talk his way out of any situation.
Race plays an important part in this documentary as it did with the trial. They take the time to rehash the Rodney King beating and how that played a vital role in the trial. At the time, I was way too young to understand how it was connected, but in this documentary it makes perfect sense. If you don't know, Rodney King was a young black man who was beaten by police and it was caught on video. This happened in 1991 Los Angeles. The police were not held responsible and this incited outrage among the black community. I can't blame them; that was pretty infuriating. One juror member on the O.J. trial was interviewed and admitted her not guilty vote for Simpson was payback for that. His lawyers (especially Johnny Cochran) did a great job of making race the number one priority in a murder trial that I remember thinking at one point during the whole ordeal, Wait, weren't two people brutally murdered? It was really unfortunate for the prosecution that Mark Fuhram was the first cop to be on the scene and he had a history of saying some terrible, racist things. The defense team aka The Dream Team used that to their full advantage and ran with it. And it certainly paid off as we all know. The prosecution also made some very dumb mistakes, most notably the gloves. (Sidenote: I've recently just finished the first season of
This is Us
and every time I see Sterling K. Brown in a scene, I just shake my head and think, Oh, Charles Darden, why did you have O.J. try on the gloves?) Having him try on the gloves was so stupid! Of course they're not going to fit! Do you know how easy it is to try on a glove and make sure it doesn't fit? All you have to do is stiffen your hand. I've also heard he stopped taking his arthritis medication and that made his hand swell up. At least that moment gave us the great line, "If it doesn't fit, you must acquit!"
Even with that bone head move, I still puzzle over how Simpson was acquitted. Everyone and their grandmothers knows that he did it. I'm sorry, but you have to be stupid or in complete denial if you think he is innocent. Because if he didn't kill his ex-wife and Ron Goldman who was at the wrong place at the wrong time, then who did? The details of their gruesome murders are explained while very, very graphic photos are shown. Nicole was nearly decapitated because her throat was slashed so viciously. And let's not forget that Simpson had a record for domestic abuse and even spied on his ex once when she was with another man. Everyone interviewed in the documentary say they believe he did it or if they don't flat out say that he did it, they insinuate that they believe he did. EVERYONE. His (former) friends. His former manager. People from the defense team. The jurors.
The last part of the documentary goes into detail about how Simpson ended up in jail. Ironically, he got away with murder but he didn't get away with a robbery! This is schadenfreude at its finest. In 2008, he was sentenced to 33 years in jail for breaking and entering into a Las Vegas hotel room of a man who had a bunch of Simpson memorabilia from his football days. Simpson claims that all this stuff was stolen and wanted it back. (Is it considered a robbery if you're taking back stuff that was yours in the first place? Hmmm. Although he did take other stuff that wasn't previously his). They interview the guy who had the memorabilia and he said he went to the front desk and asked for security because he was "robbed by O.J. Simpson" and that everyone started laughing at him. To be honest, I would probably have had the same reaction. I would also probably have said an off-color joke like, "Well, at least he didn't kill you!"
Let's just pretend we're living in an alternate universe where Brown and Goldman were never murdered and O.J. Simpson was best known as being one of football's greats and the Trial of the Century never existed. If the Las Vegas robbery still happened in this timeline, no way in hell he is sentenced to 33 years in jail. He would have only had a slap on a wrist and probably would have to pay a fine. Even though a gun was involved, nobody was hurt and the whole thing was told as a dumb heist with a bunch of idiots.
But we don't live in an alternative universe and he wasn't sentenced to 33 years in prison for breaking and entering or robbing a man or having a gun, no he was sentenced to 33 years for murdering two people. How stupid do you have to be? He literally got away with murder (TWO murders!) and goes and does something stupid. Here's a lesson for you: if you get away with murder, don't do stupid stuff!
This was a very compelling documentary and I highly recommend it. You can find it on Hulu. Take a week and watch an hour every day. I learned a lot of things about Simpson's past and football days that I never knew. I also learned a lot about the Trial that I wasn't aware of or just forgot. There's so much in the documentary (obviously, it's nearly eight hours long!) that I only just scratched the surface with this review.