Mary Poppins
Director: Robert Stevenson
Cast: Julie Andrews, Dick Van Dyke, David Tomilson, Glynis Johnson, Karen Dotrice, Matthew Garber
Released: August 27, 1964
Oscar nominations:
Best Actress - Julie Andrews (won)
Best Director - Robert Stevenson (lost to George Cukor for My Fair Lady)
Best Adapted Screenplay (lost to Edward Anhalt for Becket)
Best Cinematography, Color (lost to My Fair Lady)
Best Art Direction-Set Decoration, Color (lost to My Fair Lady)
Best Costume Design, Color (lost to My Fair Lady) (Sidenote: why do they need a different category for the costumes in a color film and the costumes in a black and white film?)
Best Sound (lost to My Fair Lady)
Best Film Editing (won)
Best Special Visual Effects (won)
Best Original Song - "Chim Chim Cher-ee" by Richard M. Sherman and Robert B. Sherman aka The Sherman Brothers (won)
Best Music, Substantially Original Score - The Sherman Brothers (won)
Best Music, Scoring of Music, Adaptation, or Treatment (huh???) - (lost to
My Fair Lady
)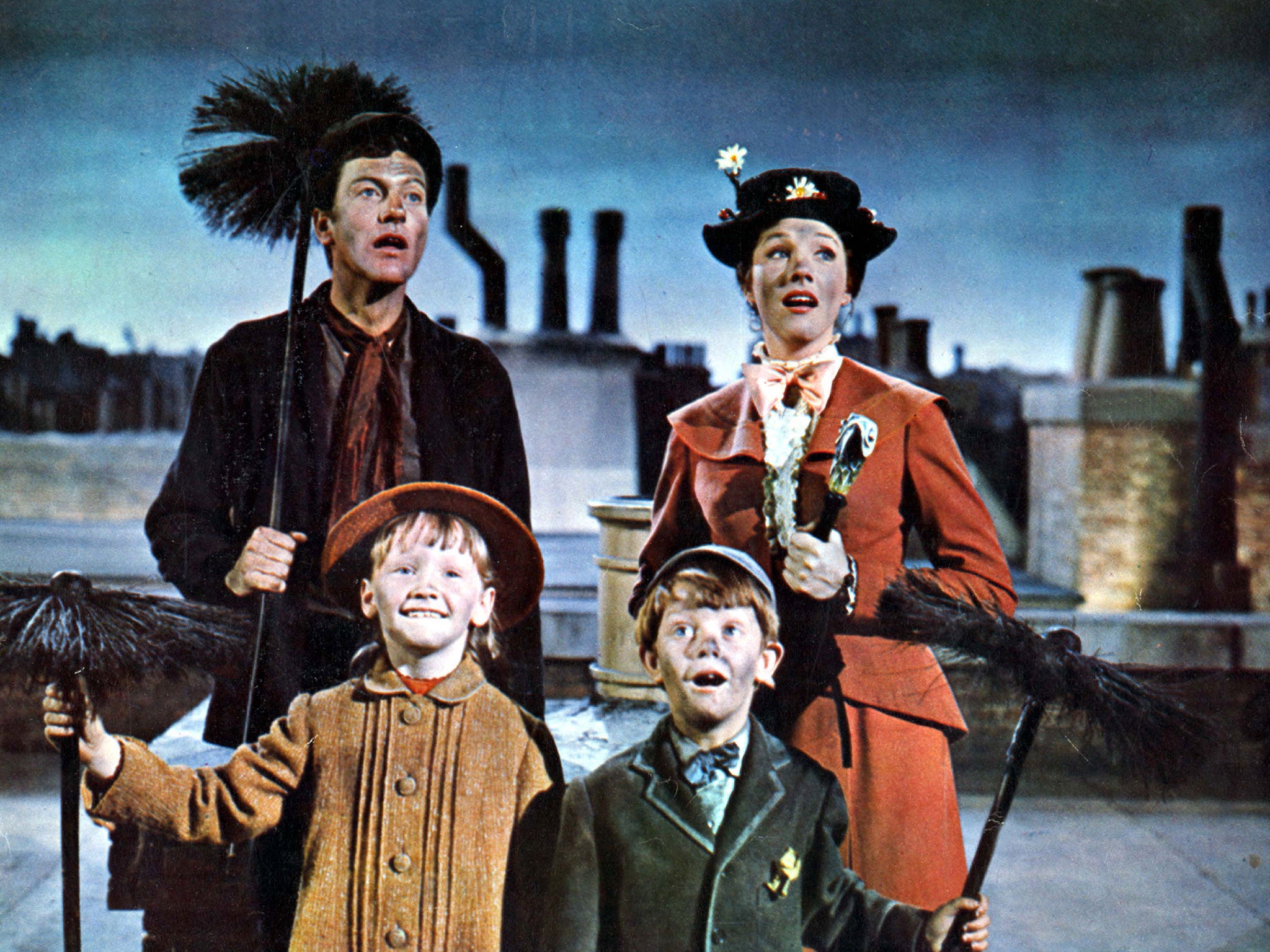 Okay, I'm about to admit something that will most likely get my cinephile card revoked: I don't particularly care for
Mary Poppins
. :::ducks out of way of oncoming tomatoes::: It's been a very long time since I've seen this movie and now I'm starting to wonder if I ever saw it in its entirety. I've been keeping track of all the movies I've seen on DVD since 2003, so I went back to check my archive and I have not seen this in the last 13 years. The last time I saw it was most likely when I was a kid, but aside from the more well-known scenes, I don't remember watching it at all! I absolutely adore Julie Andrews (who was 28 when she made this) and she's great as Mary Poppins, but my God! This movie is so long and it drags! It takes awhile before we're introduced to the titular character. If you've read my review of
Saving Mr. Banks,
you will know that I had no idea
Mary Poppins
was based on a book by P.L.Travers, who, in real life, was quite a vile woman. I actually really liked that movie ad found it fascinating. Supposedly the only thing she approved of was the casting of Julie Andrews who, as we all know, plays the magical nanny.
The Banks family are looking for a nanny for their two children, Jane and Michael (who are a bit creepy looking if you ask me!) Their recent nanny has quit because she "lost" the children again. Wanting to help, Jane and Michael compose their own saccharine ad for what they're looking for in a nanny and sing it to their parents. Their dad (David Tomilson) rips up the piece of paper and throws iti n the fireplace, and it somehow finds it way to Mary Poppins who lives on a cloud or something.
I should add there's this running gag with a neighbor who shoots a cannon ball at a precise time everyday and Mrs. Banks and the maids have to hold the valuables and breakables in place. Fun fact: Mrs. Banks is played by Glynis Johnson, the woman who played the grandmother in
While You Were Sleeping
. She's still alive at 92 years old!
The next day, there's a long queue of nannies applying for the job, but a big gust of wind caries them away and Mary Poppins is the only one there when the maid opens the door to let the interview process begin. Since she's the only one there, she get the job (she pretty much decides it for herself). My favorite part of the movie is when she meets the children and is setting up her room. Everyone knows this scene with her carpet bag where she takes out many items including a hat rack, a lamp, and a mirror and Michael goes under the table to see how she's doing that. And we get the scene where she measures the children. Each measurement come with a personality trait and her is "Mary Poppins...practically perfect in every way." She teaches them to clean their room, all they have to do is snap their fingers and everything will go back in its proper place. I wish I could do that.
Mary Poppins introduces them to Bert (Dick Van Dyke) who has many of his chalk drawings displayed in front of a park and they jump into one of them. This is the sequence where they combine live action with animation. P.L. Travers really hated this sequence and fought to keep it out of the movie. I hated this sequence because it goes on forever...this movie is two hours and twenty minutes long..it did not need this scene!
Even though I do love the songs (because I grew up with many of them), I was so bored by this movie! Maybe since there's no nostalgic factor for me, it doesn't hold my interest.